Acoustic Energy
Acoustic Energy Hi-Fi Loudspeakers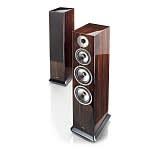 Acoustic Energy has been producing world-class hi-fi speakers for over 30 years. Acoustic Energy's loudspeakers are based on the exacting demands for precision, attention to detail and user-friendliness demanded in the recording studio to produce music as authentically and naturally as possible.

The vast experience in the development of loudspeakers, the engineers passionately contribute to every level and every type of Acoustic Energy product. The company has received awards and commendations for its products worldwide, and the continuous innovation in materials and technology has also been recognized many times over.

Acoustic Energy loudspeakers offer the HiFi fan pure sound with pure fascination and timelessly elegant design - all at an attractive price!
articles on the topic Acoustic Energy